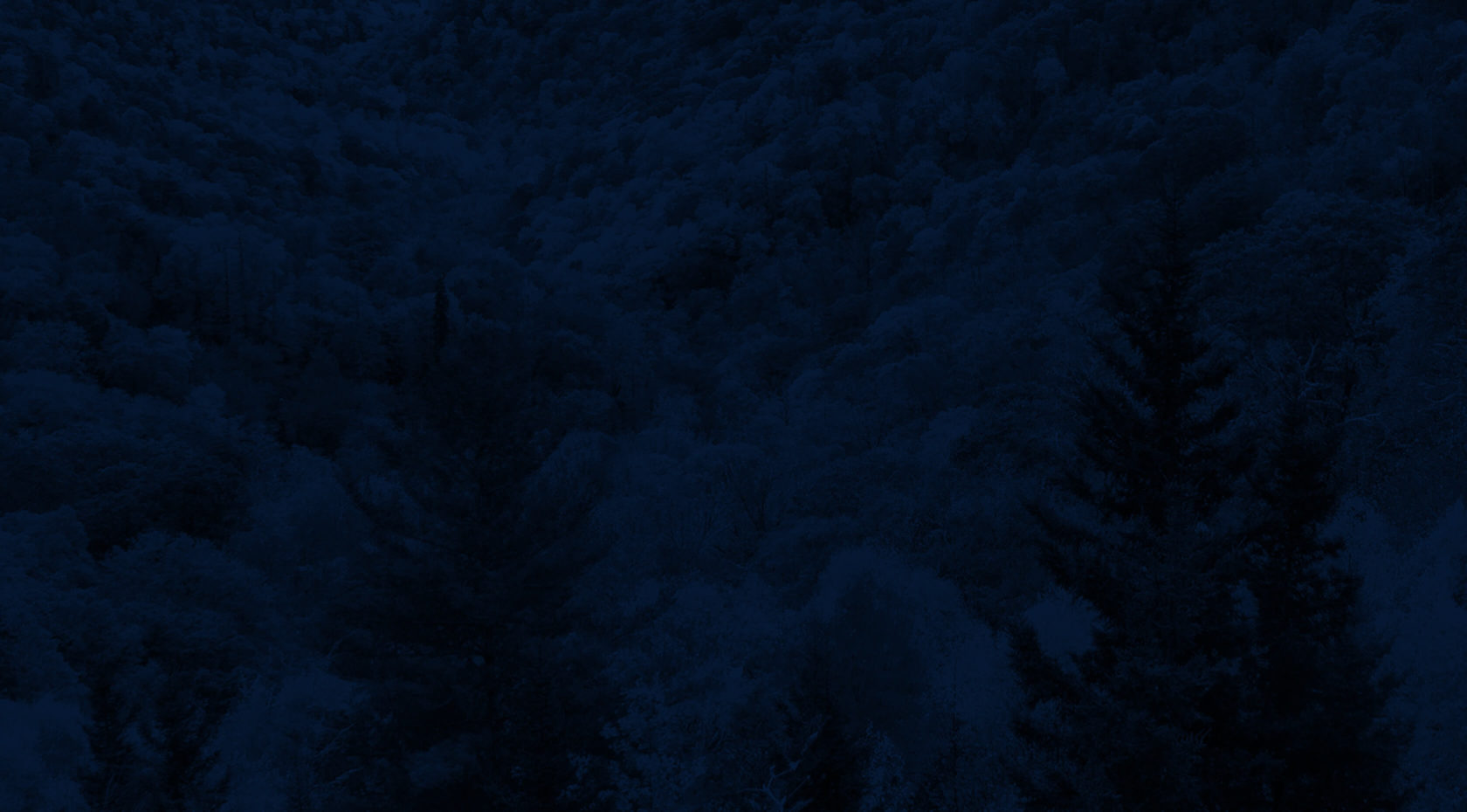 Have you ever stood on our Founders Bridge, looking down on the Nantahala River?
You are standing on the Appalachian Trail! You could continue to the north, uphill past the cabins and bunkhouses, and head another 2,062 miles following the path to the summit of Mount Katahdin in Maine. Or you could choose the path less taken and head southbound (SOBO as the hikers call it). Trekking south 136 miles will guide you through the Nantahala National Forest and into Georgia to the summit of Springer Mountain, the trail's southern terminus, where many hikers start their journey. Whether choosing north or southbound on the trail, NOC has been an iconic stop for hikers to shop, eat, start, or find a place to rest while passing through on a long journey.
The Appalachian Trail
The Appalachian Trail (A.T.) is a 2,200-mile-long scenic trail through the Appalachian Mountains in the eastern United States. It passes through 14 states, eight national forests, and six national parks, ranging from dense forests to alpine peaks. Avoiding more developed areas, it passes through a few small mountain towns, and close to two NOC locations in the southern half.
The visionary for the trail was Benton MacKaye (another local trail named in his honor). His trail proposal, in 1921, was for much more than a hiking trail and included ideas for utopian living with self-owning communities and farm camps. He spent several years trying to gain support for his plans and eventually founded the Appalachian Trail Conference in 1925. Work and support for the trail took off. Officially completed in 1968, the AT is an ever-evolving trail. There are annual upgrades and reroutes due to erosion and impact. It is now globally renowned and included under the National Trails System Act, finally protecting it for future generations.
the at is for hiking
Hiking the AT can look different for everyone. Some like to section hike, i.e. hiking pieces and sections at different times, while some like to tackle longer segments, taking a month or two or shorter jaunts walking a few miles to a peak. Thru-hiking is taking on the large commitment of hiking the entire length of the trail in one continuous effort, usually within one calendar year. It is a significant challenge that requires physical and mental endurance, careful planning, and an average of six months of dedication. Through physical preparation and mental toughness, the statistics have stated that 1 in 3 make it the entire length of the trail, and for those who complete the journey, it can be a life-changing experience.
NOC on the AT
Luckily you can find the NOC in two supporting locations along the trail, Gatlinburg, Tennessee, and Bryson City, North Carolina.  NOC Gatlinburg, a.k.a. the Great Outpost store, is our 18,000 square foot location just outside the Great Smoky Mountain National Park boundary line and filled with apparel and hiking gear for occasional hikers and thru-hikers alike. The Great Smokies often have a very wet climate, and some thru-hikers prefer a dry place to sleep and a hot meal as they trek an average five to seven days it takes an aspiring hiker to cross the park on the AT. From the trail, you can grab a shuttle from the AT access at Newfound Gap (mile 207 northbound) and ride to the bottom of the mountain into Gatlinburg for food and supplies.
But the first location you come to on the AT headed northbound is our 500-acre campus in Bryson City, North Carolina, where the trail intersects the Nantahala River. This section of trail is maintained by two hiking clubs that volunteer their time and effort to keep the trail maintained and open for all hikers. The Nantahala Hiking Club & The Smoky Mountains Hiking Club. While you are passing through the NOC Outfitter's Store offers hiking supplies, a friendly face, and a rest for your feet. Hikers looking for respite will be happy to rest their pack outside of Rivers End Restaurant to enjoy a warm meal and a cold beer. This location also offers whitewater rafting for an exhilarating refresh or even our mountain-top zip line for a view of the Smokies from above the tree line. Many hikers choose to stay a night or two on our campus in our hiker-friendly bunk houses, Basecamp or upgrade to a cozy Dogwood lodge room. Other features steps away include essential needs like an ATM, stamps, coin-operated laundry facilities, an on-site General Store for snacks and drinks, and campus-wide Wi-Fi for your use while in the area. But if you are just interested in the supplies and gear, our outfitter store will help you with a pack shakedown and get you geared up and back out on the trail.
Whether you're a seasoned hiker or just starting, the Appalachian Trail is a beautiful place to trek a few miles. Supplies, gear, and a comfortable place to rest can be found at the NOC. Find some new gear, grab the necessities, chat up the guides at the outfitters store and get their expert advice and local tips for hiking the AT or for any other hike recommendations in the area.
Looking back, the hike out of the gorge is a difficult but beautiful one.
Post author, Betsy Bevis, is a 2016 AT thru-hiker and the Marketing Manager at Nantahala Outdoor Center. She and her partner Russ completed their AT thru-hike in 6 months and still long for the trail daily. If you see her on the trail, she responds to her trail name, Hot Sauce.
Join Us for Happy Hiker Day!